Art for Life has been providing specialist art tuition to members of the community living with special needs since 2013.
Specialising in painting and drawing in a range of media, the trust aims to teach art as a way of self expression for the students, alongside assisting in their treatment, rehabilitation, development of skills and general wellbeing.
Our annual exhibition gives our artists an opportunity to publically display their work alongside the ability to generate their own income through the public sale of their pieces.
Anh Que Chu
Of Chinese descent and originally from Vietnam, Anh is one of Vietnam's "boat people" who sought refuge in 1979. Anh studied at Hanoi's Arts school with a strong prevailing 20th-century French influence.
Moving to Christchurch in 1982, she later graduated from CPIT in 2000, with a Bachelor of Art & Design.
Anh taught for the Your Studio Trust and privately for children and adults until 2013. Anh then founded Art for Life to teach art to to members of the community living with special needs and the Charitable Trust was later established to manage the studio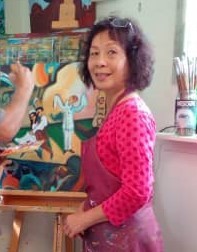 Monica is an Architect with six years experience. She has recently returned to university to study Fine Art as a postgraduate student. 
Mei has been volunteering with the Trust for a year now, and is a great supporter of our cause throughout the Chinese community
Jade comes to Art for Life with experience as a painter in the film industry.
John is a familiar sight around the trust, not only does John volunteer to help deliver classes, he has also been a past member of our Board of Trustees, helping to oversee the running of the trust.
Chairperson
Leah has over 10 years experience across generalist HR, workplace wellness, and Health and Safety. An avid art lover, her values and personality align with our unique culture, and she centres people at the heart of everything she does. Essentially she is commited to assisting Art for Life in better supporting our volunteers and students into the future.
Leah became involved in the Trust in March 2021
Treasurer
Daniel joins the Trust with a diverse background in finance and innovation.
Daniel brings technical skills in financing, compliance, business management and analysis. Daniel became involved in the trust in June 2021
Secretary
This position is currently vacant
Engagement
Hannah is an artist, art educator, and arts administrator who is passionate about access to the arts for all and how art can bring meaning to life. Hannah has worked across a number of not for profit organisations as a visual arts public programmer and engagement manager over the past 10 years.
Hannah became involved in the Trust in June 2020.
Business Development
This position is currently vacant
Fundraising
This position is currently vacant